BACKGROUND
This pages summarizes the types of work performed, the types of companies worked for, and environments worked in. This includes commercial carriers, public utilities, engineering companies and foreign governments. Work locations include: commercial communications facilities, off-shore oil and gas platforms, refineries, rail facilities, grain elevators, substations, seaports, and airports.
Mr. Blais began his commercial wireless career in 1986 by deploying the initial non-wireline cellular system for the Orlando, Florida market. He subsequently went on to design and deploy several 800 MHz cellular systems in MSA markets 100-300 and the RSAs. He also participated in the expansion of the CoasTel system in the Gulf of Mexico. Here he had exposure to the design and installation of communications facilities on off-shore oil and gas platforms.
In 1990, he began his private consulting practice by providing planning and engineering services to companies such as BellSouth International, Ameritech, Bell Laboratories, MCI, Nortel and others. The work performed was for conventional and digital AMPS in the 800 MHz band, and for 1.8 and 1.9 GHz PCS.
During this time he has worked with some of the leading wireless engineers worldwide performing planning, system design and implementation support services. His activities included:
Business & technical planning

RF coverage designs

System design

Standards implementation

Propagation measurements & RF model development

Frequency planning & coordination

Construction & implementation planning & support

Drive test planning, data collection & post processing

Optimization & acceptance planning

Operational & maintenance processes & procedures
During 1992, he assisted a major U.S. telecommunications corporation to prepare a business case for partnership participation in one of the UK PCNs. At this time, he developed a plan and directed the effort to produce the materials used in a presentation to the board of directors by the company president. The areas covered included:
Analysis and evaluation of market penetration and market-share projections used by the licensee in its business plan.

Evaluation of the projected minutes of use per subscriber from service start-up onward and estimated revenues by year.

Risk analysis associated with new technology in both the infrastructure and terminal equipment including the impact of schedule slips, technical problems with the network, and potential problems with hand-set cost and availability.
The above areas were evaluated for their reasonableness compared to similar projections from other sources. This data was used to develop models with varying degrees of optimism, which in turn provided an assessment of the amount of time required to reach a positive cash flow and the overall impact on the rate of return in the longer term.
The majority of work done for commercial wireless systems has been at the system level for these networks. His work has addressed most aspects of planning, design, installation, commissioning, optimization and acceptance testing for these networks. His responsibilities included creation of detailed project plans beginning at the point of concept, and continuing through the planning and system design processes and culminating in final acceptance and turnover to the customer. His activities also included those necessary to develop, implement and support the project plan. They included identification and scheduling of human and material resources, definition of the training programs, determining the material requirements, identifying the types of test and measurement equipment needed, and specifying the data processing and related support services necessary to complete system integration and testing.
During 1993 and 1994 he was involved in the planning activities associated with a large-scale national PCS deployment for the MCI led consortium. From 1995 through 1997, he provided project planning support to Nortel for the Sprint PCS deployment.
In 1998, wireless broadband system planning and design, and feasibility study projects for private land mobile radio replacement systems became very active, so at this point he shifted his focus to these types of systems.
Recently, Mr. Blais completed the the design of point-to-multipoint and point-to-point radio systems providing a broadband radio network for a city-wide ITS system linking intersection signal controllers and video cameras to a Traffic Management Center (TMC). The broadband ITS data network design included both point-to-multipoint and point-to-point radio systems. The point-to-point systems linked the outlying point-to-multipoint hubs to the TMC, as well as providing dedicated high-capacity radio links to extend fiber connections into the TMC. The activities included:
Radio system designs for the point-to-point and point-to-multipoint radio systems

Field verification of the radio paths and land cover conditions

Radio spectrum analysis for frequency planning

Link budget and link availability calculations

Frequency planning

Electronic equipment, tower and enclosure recommendations and quotations

FAA tower study filings and clearance approvals
The design recommendations developed were vendor agnostic and capable of being implemented by a number of products, and leaving the door open for a WiMAX implementation.
In 2000, Mr. Blais supported the nation-wide deployment of the Metricom-Ricochet broadband wireless Internet network as acting RF Engineering Director and senior technical consultant. This was nation-wide system delivering fixed and mobile broadband services to the 30 largest cities in the USA. In this capacity, he directed and managed the prime RF engineering and site acquisition contractor, established administrative processes, and developed and documented technical standards. He conducted design reviews and approved radio system coverage and capacity analyses.
Over the last 10 years, Mr. Blais has been involved in a number of wireless projects related to ITS. Recent projects include:
System designs for four point-to-point radio systems for TxDOT extending the reach of the existing fiber system carrying highway traffic video

Design of point-to-multipoint and point-to-point radio systems providing a broadband radio network for an ITS system linking intersection signal controllers and video cameras to a Traffic Management Center (TMC)

Performing several studies and developing a specification used to move Houston METRO Light Rail operations from their existing analog two-way radio system to a new P-25 digital radio system.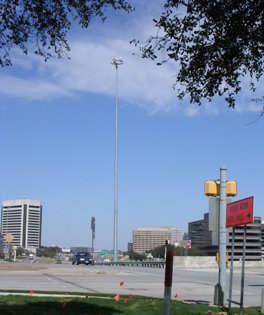 The point-to-point radio system design for TxDOT extended the reach of their existing fiber system carrying IP video signals. The engineering activities included:
Radio link design and field verification of the terrain and land cover features to determine the antenna heights needed for adequate radio path clearance

Radio spectrum surveys at each proposed radio site to determine the spectral occupancy and noise floor levels

Link budget and link availability calculations

Developing a recommended frequency plan for each system

Production of formal reports containing the analysis results and design recommendations
The design recommendations developed were vendor agnostic and capable of being implemented using a number of products.
The broadband ITS data network design included both point-to-multipoint and point-to-point radio systems. The point-to-point systems linked the outlying point-to-multipoint hubs to the TMC, as well as providing dedicated high-capacity radio links to extend fiber connections into the TMC. This project is described in more detail above under Wireless Broadband.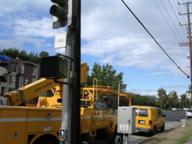 In the Fall 2003, Mr. Blais developed, deployed and demonstrated a video surveillance capability for the Los Angeles Department of Transportation that extended the reach of their fiber system. He also developed, deployed and demonstrated a wide-area wireless data network used to control traffic signal controllers. Both wireless systems interconnected with the existing fiber network to carry the data back to LADOT's ATSAC Center.
Currently, Mr. Blais is in the process of completing a project to develop a specification for the replacement of an aging analog two-way radio system with a P25 system. The radio work is part of a major expansion of a light rail system in Texas. As part of this project, he performed an assessment of their existing system and operations and produced a detailed report. The project also included developing a needs assessment for their existing as well as expanded operations. This included reviewing the expansion plans for the rail infrastructure, rail cars and support vehicles, as well as reviewing their plans for expanded operations and for staff expansion. Current and future business processes were also reviewed and included in a Needs Assessment Report submitted to the Authority. The results of the Existing System Assessment and Needs Assessment were used to develop a specification to expand the existing communications system to increase the number of dispatch consoles from two analog positions to ten P25 IP positions at the primary Operations Control Center (OCC), and add a spatially diverse Backup OCC at their Rail Operations Center. The expansion also included the provision of an IP VLR.
Recently, Mr. Blais conducted a comprehensive feasibility study for a an electric utility to determine the best way to replace its aging two-way radio infrastructure to meet its current and future mobile communications needs. The project included:
A background study of existing operations and how communications were used

A survey of available technologies suitable of meeting these requirements

Evaluation of infrastructure sharing with other non-profit and for-profit organizations operating similar radio systems in the geographic area

Lease-purchase analyses for leased verses owned infrastructure

Development of a scoring methodology to evaluate each option against a set of weighted performance and cost criteria

Financial analysis and recommendation
The study considered the service area for the power company and currently licensed frequencies, and as one of the options, developed a design based on reusing most of the existing infrastructure and frequencies. The results of all of the options considered were documented in a comprehensive study report and summarized in a presentation for the Board of Directors.

Public Safety
In 2006, Mr. Blais developed the 2-way radio and MW system designs used by a new public safety system provider. The engineering was used in their first successful response to a P25 RFP. On award of the contract, Mr. Blais started their engineering department, completing the following tasks:
Developing internal processes and procedures for detailed system design

Evaluation and acquisition of design tools and engineering resources

Developing the drawing and documentation standards

Engineering support for system implementation and test

Developing test plans and procedures for factory and field testing covering all aspects of performance verification from transmission line testing through radio coverage verification
Mr. Blais has been active in the design of point-to-point microwave radio systems for over 25 years. His initial training was with GTE and was in high-capacity carrier-class microwave systems used to connect large DOMSAT earth stations into the national long-distance telephone network. These systems utilized radios manufactured by GTE-Lenkurt, Western Electric and Rockwell-Collins and interconnected with AT&T, and the GTE and Bell telephone operating companies.
MW Applications
He later became involved in the design and implementation of digital and IP microwave systems as the technology evolved. This included systems for the following applications:
Cellular system interconnection

Backbone networks for security and IP video surveillance systems

Backbone systems for transportation system interconnection

Backbone networks for public safety radio systems

Private systems for utilities and municipalities

Backbone networks for broadband data networks
These systems include both licensed and unlicensed deployments in the United States and other countries.
MW Planning & Design Activities
His planning and design activities typically include:
System planning and architecture development

Site & route selection

Site & path surveys

Frequency band selection & channel planning

Radio path profile, clearance & availability analyses

Network topology design & TELCO interconnection design

System design, equipment evaluation & hardware selection

Equipment lists, cost estimates & budgeting

FAA clearance, prior coordination & FCC license application

Documentation requirements

Acceptance test plan development & test procedure review.
Mr. Blais has been involved in digital radio communications since 1978 and is very familiar with the theory and application of these technologies. In addition to the design of digital MW radio systems, he has done the transmission design for digital satellite, digital troposcatter and digital land mobile systems. He familiar with the effects of multipath interference and dispersion associated with digital signals and is familiar with the digital processing techniques used to combat signal impairments on the radio link.
MW Feasibility Studies
In addition to his experience in the planning and design of MW radio systems, Mr. Blais has also performed comprehensive analyses and feasibility studies for upgrading existing analog systems to digital operation. His most recent study was donet for an electric utility in the Midwestern United States, and involved:
Assessing the current infrastructure and the communications it provided

Developing a plan to replace the existing analog equipment with digital microwave and multiplex equipment

Developing cost data to support the conversion plan
This plan also included fiber-radio trade-off analyses for the shorter links and recommended hybrid fiber-radio network architecture. It also included a five-phased project roll-out plan and schedule, and cost estimates by deployment phase. The plan provided several options for carrying streaming video surveillance traffic for security applications.
MW Implementation
As a registered professional engineer, Mr. Blais also has a fundamental understanding of the basic civil and structural aspects of building, foundation and tower design, and knows when to involve civil, structural and mechanical engineers. His implementation and construction support activities typically include:
Vendor management

Site, building & tower construction support for both ground and roof-mounted applications

Communications system equipment installation support, including:

Radio equipment, antennas & transmission lines

Protection switches

IP networking equipment

Multiplex equipment

Service channels

RF exposure surveys & compliance

Other site equipment installation support activities including:

AC & DC power plants,

Grounding systems

Operations, Monitor and Control (OMAC)

Fire detection & suppression

In 2005 and 2006, Mr. Blais developed a radio system backbone network needed to link video surveillance sites along the Beaumont-Port Arthur ship channel into the U. S. Coast Guard's Vessel Tracking Center in Port Arthur. The project included performing site and radio path surveys, developing the network architecture, performing capacity analyses and recommending equipment for the actual implementation.
During 2004, Mr. Blais became involved in radio systems supporting security and surveillance applications. The first was the design of an OC-3 point-to-point radio microwave system used to carry radar, video and surveillance data in and around Corpus Christi Bay and the Port of Corpus Christi. This involved the analysis of traffic requirements and connectivity, and the design of over-water links that also crossed port facilities and refineries. The system was 35 miles long and connected radar and video surveillance sites to a command center, the harbor master's office and the U. S. Coast Guard offices.
Another project completed in 2004 was for radio systems supporting airport security systems. This project was completed for a commercial division of a large defense contractor and provided a network using RFID technologies to track food and merchandize for airport concessions and other materials entering and traveling through the airport. The system design also included an indoor and outdoor Local Positioning System (LPS) to track the location of security officers and other key airport personnel, as well as high-value portable and mobile equipment.
Mr. Blais has been involved in space-based communications since high school. During this time he was involved in lab projects at Titusville High School and the University of Florida tracking manned and unmanned spacecraft. His formal career in satellite communications began after joining GTE's telephone operating company in Florida when he had the opportunity to transfer to GTE Satellite Corporation.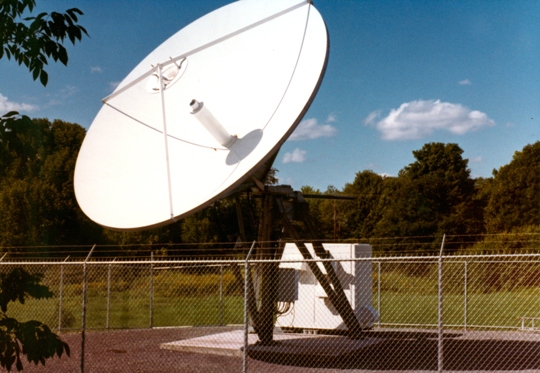 His first position was as station engineer at the Homosassa earth station north of Tampa. This facility was one of seven Standard-A earth stations which formed the joint AT&T/GTE U.S. domestic satellite system carrying long-haul switched telephone traffic. His responsibilities included:
Verifying proof of performance and accepting the facility from the contractor

Developing and managing test, maintenance and quality measurement programs

Conducting special transmission tests for GTE Laboratories
From the earth station in Homosassa, Mr. Blais was transferred to GTE world headquarters in Stamford, Connecticut, where he was responsible for planning, budgeting and managing equipment additions to Standard-A earth stations in Florida, California and Hawaii. This equipment included HPAs, LNAs, GCE up-link and down-link equipment, as well as multiplex and terrestrial microwave facilities interconnecting these stations with the national network.
While at GTE, Mr. Blais worked with Intelsat and Bell Labs personnel to establish satellite data circuits for NASA between the manned space-flight center in Greenbelt, Maryland, and tracking stations on Guam and in Canberra, Australia. When GTE began the development of its own Ku-band satellite system, Mr. Blais was assigned to that program as a planning and system design engineer for the ground segment of the network. During this time he worked Dr. Dave Davidson of GTE Labs, Dr. Joseph Deal formally of Comsat Labs and various equipment vendors to develop and test an advanced wide-band TDMA transmission system including a high-speed burst MODEM. He was also involved in development of standard earth station configurations for use with the Ku-band spacecraft being developed in other departments of GSAT at the time. This assignment also included considerable work in the area of rain effects on RF propagation.
After his tour with GTE, Mr. Blais joined TELSPEC in New York to design and construct a 19-node satellite-based switched TDMA voice and data communications network for Telesphere International. TELSPEC was created by John Rosenblum, the former CEO of COMTECH Corporation. While at TELSPEC, he also designed a transportable satellite communications system for use in Saudi Arabia to transmit and receive video in the NTSC, PAL and SECAM formats as well as digital voice traffic using either Intelsat or ArabSat spacecraft. He also served as a technical consultant to GE Aerospace at Valley Forge, Pennsylvania, in the design of a satellite-based military communications system for the Saudi Arabian government using a derivative of the DSCS-III military communications satellites.
More recently, Mr. Blais has been involved in a number of projects including fixed video up-link earth stations for domestic applications, C-band and Ku-band VSAT terminals used in cellular telephone systems, foreign DOMSAT systems operating with Intelsat space segment, and teleport earth stations utilizing the Intelsat spacecraft in the C to Ku band cross-strapped transponder configurations.
As radio systems become more tightly integrated with IP networks, Mr. Blais has become more familiar with IP networking. He recently completed his Network+ training and is working on his CCNA certifications. He maintains his own Windows 2008 and Linux servers, routers and access points in his office. This site is hosted on a Linux server he built and uses the virtual host capabilities of Apache 2 to host multiple sites. He is quite familiar with IP radios used for streaming video and for IP telephony, having designed a number of these systems for P25 system interconnection and for port security transport network applications.
Mr. Blais provides a number of services relating to the legal and regulatory aspects of communications system deployment and operation. These include:
FCC Licensing Support (Form 601)

Other FCC Filings

FAA Study Support (Form 7460-1)

Signed & Sealed Engineering Documents

Technical Support for Legal Proceedings
Each of these areas is described below.
Regulatory Application
Mr. Blais has over 30 years of regulatory experience and has filed numerous FCC applications for licenses or for modifications on behalf of his clients. The applications cover a variety of communications systems including, point-to-point microwave radio systems, mobile radio systems and satellite earth stations. For new systems, he has performed the following tasks:
Identify the clear RF channels in an area and recommend the best available

Coordinate the RF channels selected with other users in the area

Prepare and file the FCC application package (Form 601)

Provide guidance in dealing with the FCC

Provide follow-up filings & notifications during construction
In addition to these tasks, he also provides a number of other FCC filing support activities. These include:
Modification of existing licenses for equipment additions or other changes

Oppositions or petitions against the actions of others that may adversely impact a licensed system

Developmental reports for new services
FAA Filings
The impact of installing antennas for any radio project, whether licensed or unlicensed, must be considered. During the system design phase of all projects, the proximity of towers to existing airports is considered and the design is adjusted as needed to assure FAA approval. Mr. Blais routinely works with FAA staff and is familiar with what actions are likely to be approved. These activities include:
Evaluation of the antenna heights needed and the impact on the need for FAA studies

Evaluation of the proximity of antennas to existing airports and study requirements

Glide-slope analysis for towers and antenna support structures near airports

Guidance on selecting lighting and marking methods for towers and other support structures

Preparation and filing of FAA Form 7460-1 and required attachments

Interface with the FAA during the study process

Provide follow-up filings & notifications during construction
Signed & Sealed Engineering Documents
In most states, the practice of engineering is regulated by state boards, and in some, radio system design and engineering activities resulting in studies, designs or engineering documents submitted to state or local agencies, or municipalities must be signed and sealed by a registered Professional Engineer (PE). Mr. Blais is a professional engineer and is familiar with the laws regarding signing and sealing engineering documents. He can sign in Texas and Florida.
Regulatory Development
During the 1980s, Mr. Blais was heavily involved in the rule-making proceedings at the FCC for the licensing of the Rural Service areas in the United States. At this time, he participated in providing comments in the rule-making proceedings at the FCC and worked closely with FCC staff in the process.
Mr. Blais has worked on several projects involving advanced technologies and new services for wireless mobile telecommunications. Recently, he served as the technical and regulatory lead in a price cap study for wireless services for the nation of Bolivia. This project is financed through the World Bank for SITTEL and was completed during the first quarter of 2001.
He also supported PCS and 3G spectrum allocation and licensing activities for the Telecommunications Regulatory Commission (TRC) of Government of Columbia on behalf of Global Telecommunications Investment Group. GTIG was part of an international team for this project, and was headed by Credit Suisse – First Boston Corp. Mr. Blais' participation included developing a spectrum plan to permit the licensing of U.S. PCS frequencies while keeping UMTS-3G channels open for future auction opportunities. It also included a clearing plan for currently occupied parts of the spectrum as part of the final recommendations.
Legal Support
Mr. Blais also offers a number of support services relating to wireless telecom to the legal community. These include:
Review of deposition materials and expert opinions and reports

Expert testimony

Arbitration and mediation support

Technical consultation and advisement
The types of cases he has supported include:
Interception of radio signals

Damage assessments from accidents at tower sites

Technical support in intellectual property disputes

Technical support in determining damages due to improper system operation

Damage assessment support for claims resulting from negligence
He has been deposed on numerous occasions and has testified in court.
Mr. Blais has developed and provided training as part of his engineering responsibilities. This includes training for staff, clients and as a part-time instructor. The following sections summarize his training development and presentation activities.
Training Development
Mr. Blais has developed training programs for BellSouth International (BSI), the AT&T Corporate Training Center and for George Washington University. The work for BSI was to done to train the initial staff for cellular system in Buenos Aires in the fundamentals of cellular. The work done for AT&T was similar, and resulted in a formal training manual with educational material, exercises and tests. The program for GWU was an introduction to wireless fundamentals and technologies used as the introductory course to their wireless communications certificate program. With the exception of the AT&T CTC course, Mr. Blais also presented the courses developed.
Training Presentation
The BSI and GWU courses described above in Training Development were also taught by Mr. Blais. To teach these courses, he developed the presentation materials, daily teaching schedules and presented the material. Both of these courses were one week long and consisted of a full day of classroom training.
University of Florida
Degree: Bachelor of Science
Major: Electrical Engineering
Option: Communications
EDX SignalPro
RCC Comsite Design
Softwright TAP (MW)
MS Office Professional, Access, Visio, Project, FrontPage
MapInfo, MapTech, Delorme
MathCAD
AutoCAD Lite
TurboCAD
Registered Professional Engineer (PE)
Florida - Registration #22211
Texas - Registration #93307
Network+
Tower Climbing Safety & Rescue
Senior Member - Institute of Electrical & Electronics Engineers (IEEE)